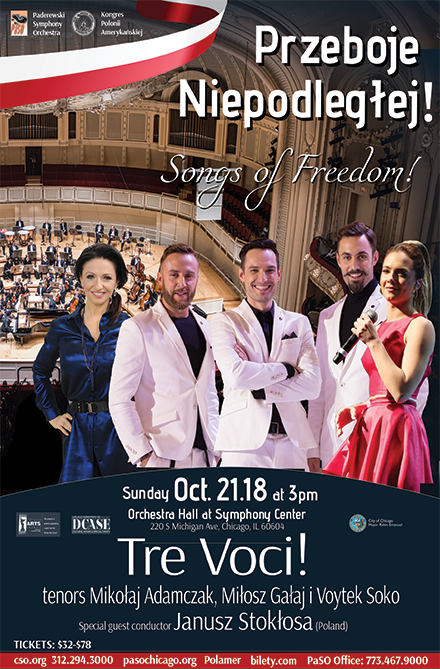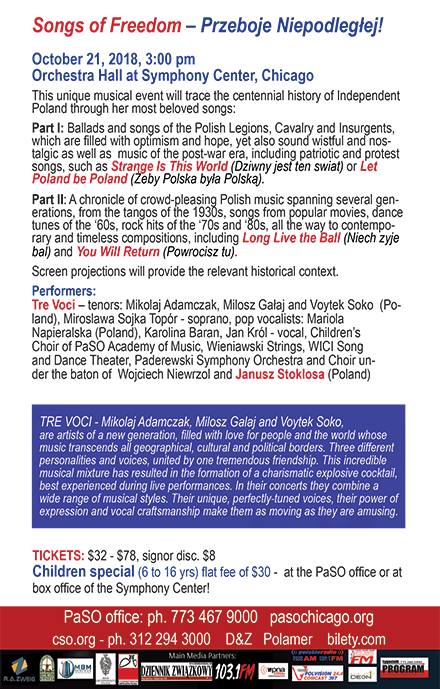 Songs of Freedom – Przeboje Niepodległej!
October 21, 2018, 3:00 pm Orchestra Hall at Symphony Center, Chicago

This unique musical event will trace the centennial history
of Independent Poland through her most beloved songs:
Part I: Ballads and songs of the Polish Legions, Cavalry and Insurgents, which are filled with optimism and hope, yet also sound wistful and nostalgic as well as music of the post-war era, including patriotic and protest songs, such as Strange Is This World (Dziwny jest ten swiat) or Miejscie Nadzieje.
Part II: A chronicle of crowd-pleasing Polish music spann
ing several generations, from the tangos of the 1930s, songs from popular movies, dance tunes of the '60s, rock hits of the '70s and '80s, all the way to contemporary and timeless compositions, including Long Live the Ball (Niech zyje bal) and You Will Return (Powrocisz tu).
Screen projections will provide the relevant historical context.
Performers:
Tre Voci – tenors: Mikolaj Adamczak, Milosz Gałaj and Voytek Soko (Poland), Miroslawa Sojka Topór - soprano, pop vocalists: Mariola
Napieralska (Poland), Karolina Baran, Jan Król - vocal,
Children's Choir of PaSO Academy of Music, Wieniawski Strings,
WICI Song and Dance Theater,
Paderewski Symphony Orchestra and Choir under the baton of
Wojciech Niewrzol and Janusz Stoklosa (Poland)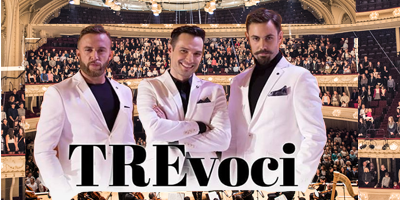 TRE VOCI - Mikolaj Adamczak, Milosz Galaj and Voytek Soko,
are artists of a new generation, filled with love for people and the world whose music transcends all geographical, cultural and political borders. Three different personalities and voices, united by one tremendous friendship. This incredible musical mixture has resulted in the formation of a charismatic explosive cocktail, best experienced during live performances. In their concerts they combine a wide range of musical styles. Their unique, perfectly-tuned voices, their power of expression and vocal craftsmanship make them as moving as they are amusing.


PASO AWARDS:
Cook County Treasurer Certificate of Excellence
for outstanding dedication and lasting contributions to the Polish Community,


Minister Kultury i Sztuki
Barbara Bilszta - zasluzony dla Kultury Polskiej.

W uznaniu zaslug polozonych w propagowaniu sztuki i kultury polskiej
USA Congressional Record

Madam Speaker, on behalf of the more then 110,000 Polish and Polish-American constitiune of my district...
State of Illinois Treasurer's Outstanding Public Service Award.


Silver Gloria Artis recognition from the Ministry of Cultural Affairs of the Republic of Poland,

Annual Heritage Award "Charisma" from the CITIBANK.
Copernican Award
Gold Medal and honorary member of Armia Krajowa Barbara Bilszta, Wojciech Niewrzol
2017 Hertage Award Polish American Congres
Wojciech Niewrzol wyroznienie Fundacja Teraz Polska
Wybitny Polak 2017
PaSO is a member of:
American Symphony Orchestra's League
Illinois Council of Orchestras
Illinois Arts Alliance
American for the Arts Foundation
American Federation of Musicians
Donors Forum
National Association for Music Education
PaSO has presented over 140 works of Polish composers from the anonymous Renaissance to the contemporary, never before performed in Chicago and USA.
Adama Jarzębskiego
Marcina Mielczewskiego
Feliksa Janiewicza
Michała Kleofasa Ogińskiego
Karola Kurpińskiego
Ignacego Feliksa Dobrzyńskiego
Fryderyka Chopina
Stanisława Moniuszki
Aleksandra Zarzyckiego
Henryka Wieniawskiego
Władysława Zeleńskiego
Zygmunta Noskowskiego
Juliusza Zarębskiego
Ignacego Jana Paderewskiego
Emila Młynarskiego
Mieczyslawa Karłowicza
Karola Szymanowskiego
Ludomira Różyckiego
Grażyny Bacewicz
Witolda Lutosławskiego
Tadeusza Bairda
Henryka Czyża
Wojciecha Kilara
Henryka Mikołaja Góreckiego
Marty Ptaszyńskiej
Krzysztofa Pendereckiego